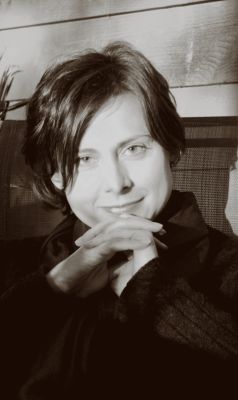 Making art is an integral part of my life. Everything I'm thinking and feeling shows in what I'm creating. When someone connects to the art, I know I've found a kindred spirit.
Art is in my DNA. Growing up in a family of artists and makers, I have a profound love for visual art. From an early age I enjoyed the combination of words and images and was naturally drawn to the practice of graphic design. After completing a BFA at the University of Georgia's Lamar Dodd School of Art, drawing and painting has continued to be the inspirational foundation for over 1,000 book covers I've created for publishers and authors over the past 26 years. **Currently seeking gallery representation.**
Education
University of Georgia's Lamar Dodd School of Art - BFA 1994
Style
Colorful, impressionistic representations of nature
and symbolic works in repurposed paper
Exhibitions
Solo Show - February 2018
2018 Tea Garden Group Show
2019 Group Show at Macon Arts Alliance
Solo Show - Travis Jean Emporium - September 2019
"Drawn to Macon III" - Women Artists of Georgia - February 2020
"Botanica" - March 2020
Awards
Grant Recipient - 2018 Downtown Challenge Bus Terminal Mural
Grant Recipient - 2020
Gallery Representation
Macon Arts Alliance - Macon, GA
Travis Jean Emporium - Macon, GA
Private Collectors (Selected)
Dr. Wendell Williams - Jacksonville, FL
Dr. Virginia Leslie - Portland, OR
Dr. Lonnie Lin - Palo Alto, CA
Drs. Michael and Bridget Wright - Macon, GA
Beth Waldrip, D.D.S. - Cordele, GA
Clay & Elizabeth Beasley - Lake Toxaway, NC
Nathan & Rebekah Owings - Asheville, NC
Brian & Martha Bennett - Marietta, GA
Daphne Burt & Craig Wong - Ottawa, ON
Susan Burton - Washington, D.C.
Artist's Studio
3404 Ridge Avenue
Macon GA 31204
artist.designer.muse@gmail.com
(478) 361-0098